GIFT VOUCHERS
AVAILABLE
HERE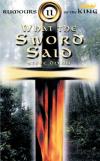 Genre: Children
Cross Rhythms Product Code: 52243
Product Format: Book
ISBN: 9781859996720
Binding: Paperback
Pages: 160
Cat. Code: 9781859996720
Release Date: 01 Oct 2003

Ruel's friends have been scattered to the four winds at Baladan's orders. As each travels a difficult road they find themselves drawn to Melech's tournament. But what are they meant to do there? And does Baladan have a plan ...?
This is the second book in the Rumours of the King trilogy of allegorical stories which very loosely mirror the gospel of Mark.
These books encourage children to look at the person of Jesus from a new perspective. Readers use their imagination to explore spirituality and find a sense of challenge and adventure in being a disciple.