GIFT VOUCHERS
AVAILABLE
HERE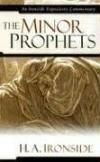 This product is temporarily out of stock. You can back-order now.
Genre: Bible Studies and Daily Readings
Cross Rhythms Product Code: 28159
Product Format: Book
ISBN: 0825429102
Binding: Hardback
Pages: 318
Publisher: Kregel Academic & Professional
Release Date: 01 Jun 2004

This classic commentary series from one of the most creative and articulate expositors of the twentieth century is being reissued for a new generation.