GIFT VOUCHERS
AVAILABLE
HERE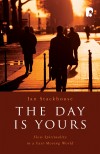 This product is temporarily out of stock. You can back-order now.
Genre: Lifestyle and Life Issues
Cross Rhythms Product Code: 44693
Product Format: Book
ISBN: 9781842276006
Binding: Paperback
Publisher: Paternoster Press
Cat. Code: 9781842276006
Release Date: 07 Mar 2008

This gentle but provocative protest against the fast-food spirituality of the modern Church calls for a slow spirituality for people on the go. Rooted in the monastic liturgy of the hours, The Day is Yours argues that in order for Christians to act as a truly prophetic witness, in a time of cultural decadence, they must recover a more biblical rhythm in which work, rest, relationships, worship and prayer are held together in creative tension.