GIFT VOUCHERS
AVAILABLE
HERE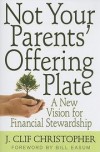 This product is temporarily out of stock. You can back-order now.
Genre: Work and Money
Cross Rhythms Product Code: 131422
Product Format: Book
ISBN: 9780687648535
Binding: Paperback
Pages: 123
Publisher: Abingdon
Cat. Code: 9780687648535

Explains why people don't often give to churches because congregations don't give them a compelling vision of the good it will do.