GIFT VOUCHERS
AVAILABLE
HERE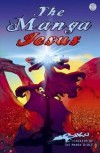 See all products in this series
Genre: Bibles and Concordances
Cross Rhythms Product Code: 76943
Product Format: Book
ISBN: 9780340964064
Binding: Paperback
Pages: 128
Publisher: Hodder And Stoughton
Content Type: General book
Cat. Code: Hodder & Stoughton 9780340964064
Release Date: 11 May 2009

This is the second volume in a series of three retelling the story of Jesus Christ in amazing Manga comic strip form.

Siku's Manga Bible was acclaimed for its edgy, provocative yet faithful interpretation of the Bible which opened up this classic text to a new generation of readers. Now he has turned his attention back to the full life story of Jesus, and retells it in an epic 300-page, three-volume manga opus, repitching Christ as the hardened political rebel of his day.

He spoke and ate with the outcasts, and those from different tribes. He healed the sick, forming new flesh and bone from thin air. He preached a new message of liberation, and shamed the rulers of the day. Surely, his days were numbered …
This is the life story of the most incredible man who ever lived. A man who lived two thousand years ago, but shaped the world we live in today. A man who could change lives.