GIFT VOUCHERS
AVAILABLE
HERE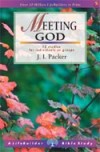 See all products in this series
Genre: Bible Studies and Daily Readings
Cross Rhythms Product Code: 39613
Product Format: Book
ISBN: 9781859994801
Binding: Paperback
Pages: 64
Publisher: Scripture Union Publishing
Cat. Code: 9781859994801
Release Date: 01 May 2001

When we meet God we are changed.
His majesty fills our thoughts. His love softens our hearts. His holiness purifies our lives. In this guide, J I Packer leads us through twelve key passages that enlarge our vision of the God we worship and serve.

This revised Lifebuilder Bible Study features additional questions for starting group discussions and for meeting God in personal reflection, together with expanded leader's notes and an extra 'Now or Later' section in each study.