GIFT VOUCHERS
AVAILABLE
HERE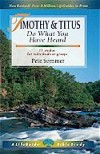 See all products in this series
Genre: Bible Studies and Daily Readings
Cross Rhythms Product Code: 39573
Product Format: Book
ISBN: 9781859995587
Binding: Paperback
Pages: 64
Publisher: Scripture Union Publishing
Cat. Code: 9781859995587
Release Date: 07 Jun 2002

Deteriorating values. Religious deception. Little concern for morality. Do you feel the world presents you with more problems than you can handle?
Timothy and Titus faced all of these tough issues as young church leaders. But Paul encouraged them to put aside timidity and insecurity, and to find strength in Christ. In these letters we also find the confidence we need to bring the truth of Scripture to a complex world.

This revised Lifebuilder study features additional questions for starting group discussions and for meeting God in personal reflection, together with expanded leader's notes and an extra 'Now or Later' section in each study.