GIFT VOUCHERS
AVAILABLE
HERE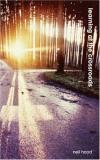 Genre: Christian Teaching
Cross Rhythms Product Code: 24598
Product Format: Book
ISBN: 9781850786412
Binding: Paperback
Pages: 176
Publisher: Authentic Lifestyle
Cat. Code: 9781850786412
Release Date: 05 Aug 2005

Neil Hood provides essential help with relating our 'crossroads' decisions to God
Have you ever stood at crossroads and wondered which way to turn?

Sometimes we're too impulsive in making our choices. Most of us fumble through life's decisions without ever thinking of asking God what his route for our life is. Taking the Bible's wise advice, the experiences of biblical characters, contemporary stories and a wealth of personal experience, Neil Hood guides us back to God.


Written in a clear, accessible style, Learning at the Crossroads has practical questions in each section.