GIFT VOUCHERS
AVAILABLE
HERE
This product can no longer be purchased from Cross Rhythms Direct, as it has been deleted by the distributor and we have no stock remaining.
PLAY ALL
STOP
This track data is supplied by the Cross Rhythms review library. Please note that CD/DVD tracks may vary according to release region or product version. You should not assume that products purchased through Cross Rhythms Direct will necessarily have identical track listings to those shown.
9/10
Reviewed by Phil Thomson
It's time to salute one of the backroom boys. Over his years in Christian music, Dave Bruce has heard it all and ridden out the uncertain changes in labels and company buy-outs - yet his touch remains undiminished. Here, he has brought together a team worthy of the best executive producer and skilfully guides them to come up with a gem, drawing the best out of every single contributor. Jarrod Cooper, quite naturally, commands the stage here with as assured a performance as I have heard in a long time from a writer/vocalist. Music producer Andy Green has the sense to let the songs express themselves, with no threat of imposition or virtuosity - it is all so natural, surely the ultimate skill of the producer. And Cooper quickly establishes his considerable credentials; by track two we are given the writer's cut of "King Of Kings, Majesty" as only he knows how to interpret it. What a wonderful song! The quality continues: "Days Of Wonder", "I Tremble" and the beautifully whimsical "Through The Eyes Of God (Dreaming)" with its passing acknowledgement to the Peter Pan of pop. There are two "glory" songs towards the end, of which the deeply personal "Lost In Your Glory" marginally outshines the elliptical message of "Glory In The Land". I am very impressed with this. Arguably, there are a couple of wobbles in an otherwise flawless offering: why the obligation to run with a syncopated "He's Alive" and a Spanish reprise of "King Of Kings, Majesty" to round things off; it feels a little self-indulgent. However, this latter observation barely dents my admiration for what my ears have been privvy to; I want more.
Style: MOR / Soft Pop
Cross Rhythms Product Code: 12852
Product Format: CD
Content Type: Album
Cat. Code: Authentic 8203622
Items: 1
Release Date: 2005

A showcase of the best so far from a contemporary worship writer/vocalist with a growing reputation.
Stuart Townend - The Best Of Stuart Townend Live
Pop CD


£9.97 £14.99
A live worship collection from the 21st century hymn writer.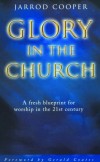 Jarrod Cooper - Glory In The Church A Fresh Blueprint for Worship in the 21st Century
Church Life and History Book
£14.99
For more information about Jarrod Cooper, check the
Jarrod Cooper Artist Profile
on the main Cross Rhythms website for news stories, feature articles, interviews and much more. (Link opens in new window)