GIFT VOUCHERS
AVAILABLE
HERE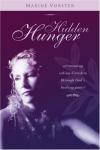 This product is temporarily out of stock. You can back-order now.
Genre: Health and Wellbeing
Cross Rhythms Product Code: 23048
Product Format: Book
ISBN: 9781860245886
Binding: Paperback
Pages: 128
Publisher: Authentic Media
Cat. Code: 9781860245886
Release Date: 08 Sep 2006


Basics
Background
Beginning
Body Behaviour
Battle in the Mind
Breaking Out
Back to the Roots
Prayer Ministry
Some Practical Advice
Testimonies

A self-help guide based on the author's own experience, for all those seeking to overcome eating disorders.
Hidden Hunger is essentially Maxine's story about her own struggle with an eating disorder. She talks about the possible causes of eating disorders, going back to childhood years.

Although eating problems are very real, they're actually the symptoms of a much deeper hunger, which is usually hidden ? even from those who are desperate to be free.

This book looks at many of the root causes of eating disorders and offers help and hope to all those who suffer in this area and those who care for them.

'This is written from Maxine's heart and reflects her personal experience . . . I wholeheartedly recommend the book, not only for those suffering from an eating disorder, but also for anyone looking to deepen their relationship with God.'

Ze Markee, Folly's End Church, Croydon



'A must read for people who are struggling with eating disorders.'

Carol Arnott, Toronto Airport Christian Fellowship

Maxine Vorster has lectured on the subject of eating disorders for a number of years, having undergone training at the International School of Ministry, Toronto, Canada. She is married to Tony and they have a daughter called Grace.