GIFT VOUCHERS
AVAILABLE
HERE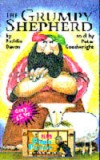 This product is temporarily out of stock. You can back-order now.
Genre: Children
Cross Rhythms Product Code: 84380
Product Format: Book
ISBN: 9781859990179
Publisher: Scripture Union
Cat. Code: Scripture Union 9781859990179
Release Date: 11 Sep 2000

The Grumpy Shepherd : Narrated by Peter Goodwright. This humorous video follows the changing attitude of Joram, the grumpy shepherd, towards the angel's Christmas message. The companion video to the popular children's book by Paddie Devon.