GIFT VOUCHERS
AVAILABLE
HERE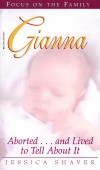 This product is being re-printed. You can back-order now.
Genre: Biography and Autobiography
Cross Rhythms Product Code: 45550
Product Format: Book
ISBN: 9781561797110
Binding: Paperback
Pages: 288
Publisher: Nova Publishing
Cat. Code: 9781561797110
Release Date: 01 Apr 2008

Gianna wasn't supposed to be here. Her frightened, 17-year-old mother went to an abortion clinic to end her baby's life. But, miraculously, the procedure failed and sent Gianna's mother into labour; a few minutes later, a fragile baby girl made her way into the world. The remarkable story of Gianna's survival is both inspirational and unforgettable.