GIFT VOUCHERS
AVAILABLE
HERE
This product is temporarily out of stock. You can back-order now.
Style: Childrens
Cross Rhythms Product Code: 17318
Product Format: CD
Content Type: Split Trax
Cat. Code: Integrity 33859
Items: 1
Release Date: 2005

This delightful musical tells the story of Chrissy, a fun-loving little star who is just coming into an understanding of what the birth of Jesus really means.
There's been a buzz in Heaven for weeks about plans for the Biggest Event Ever - Jesus' birth! Share the fun and the joy as we watch Chrissy go from 'star' to worshipper.
Kids will have fun and enjoy learning that God has created each one of us to worship Jesus.
Performance Time: 44 min.
Annette Oden - Who Is Like The Lord? Resource Kit
MOR / Soft Pop DVD
£34.00 £35.00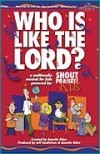 Annette Oden - Who Is Like The Lord?
MOR / Soft Pop CD
£9.97 £14.99
For more information about Annette Oden, check the
Annette Oden Artist Profile
on the main Cross Rhythms website for news stories, feature articles, interviews and much more. (Link opens in new window)