GIFT VOUCHERS
AVAILABLE
HERE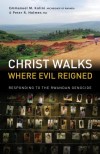 This product is temporarily out of stock. You can back-order now.
Genre: Social and Religious Issues
Cross Rhythms Product Code: 45989
Product Format: Book
ISBN: 9781934068410
Binding: Paperback
Pages: 224
Publisher: Authentic Publishing Waynesboro
Cat. Code: 9781934068410
Release Date: 06 Jun 2008

A social commentary, in a Rwandan setting, focusing on how darkness can consume a nation and how hope and transformation can be released.

The genocide in 1994 left the Rwandan people feeling God was lost or hidden, a common feeling when people have experienced violent abuse against them. Because of the appalling slaughter of the genocide, Satan and evil are often perceived to be more powerful than God.

This book suggests a way forward. Although God was not responsible for the carnage of the genocide, he does want to be part of the healing of its wounds. Christ Walks Where Evil Reigned is a book of action, outlining Godís plans for Rwanda and in all countries and communities like it that are searching for healing and wholeness.